Sonicast – Multi encoder, mutli radio, multi stream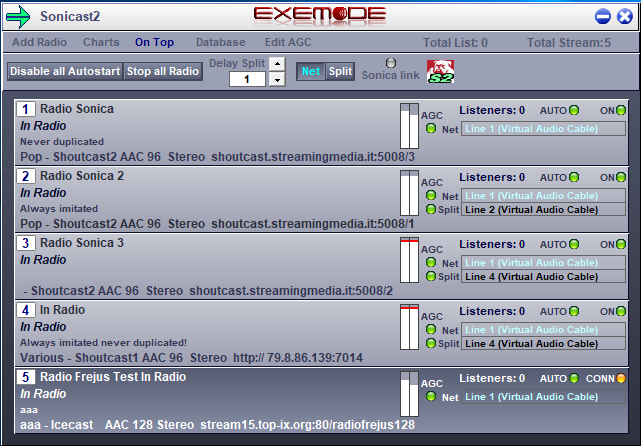 Unlimited contemporary internet broadcasts through Shoutcast1 and 2, Icecast or Windows Media Server
WMA, MPG and AAC audio formats
Audio processor for each stream
Processor can also be activated only on splitt
Linked to the Sonica director can split publicity and news
Push option; The stream is connected directly to your server provider
Publish to most existing servers on the web
Control and monitoring system of connected users
Graphic statistics
History and list of songs listened to by each connected IP user
Viewing and printing list of listening lists (examples: most listened discs, stay times, etc.)
Flag of the Connected User's Country
View geolocalization of listeners. NEW
Remote control with Sonica Radio Automation for contemporary jingle, advertising, liner and news splitting for each stream
Ideal also for those who make radio In Store
Unique music management to make unlimited personalized sales outletsContact our support center via email to get a demo version.
GALLERY